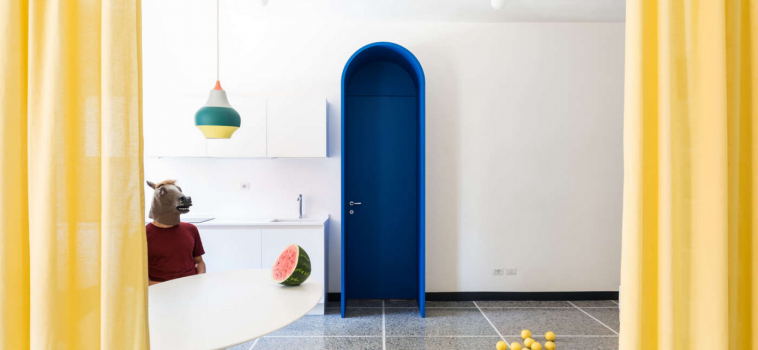 In Rome, in the Appio Latino district a few steps from the Caffarella Park, the Roman La Macchina Studio has transformed a Fifties apartment into a space that combines architecture, theater, music and illustration.
In accordance with the young couple of clients, the architects have recovered the pre-existing floor while completely altering the internal distribution to start a new narrative.
The project starts from the insertion on the ground of new materials in the correspondence of the traces of the original division. The living area is defined by a clean band of black marble and botticino, the area along the hallway resumes the original design of the pavement with a binder of pink-based powder of pozzolana, the bedroom is tinged with the warm colors of the microcemento red brick. The result is a combination of designs, different grains and colors that creates a "collage" effect, in contrast to the total white of the plastered walls.
The apartment is developed longitudinally along the wall of thorn, which represents the boundary between private and representative space and creates a landscape paced by three different elements. A white lacquered deck closet hides a small intimate studio, quiet, isolated from the rest of the house. A gray-blue filomuro door that seems to be drawn on the wall, gives access to the salle de bain covered in white mosaic with contrasting joints, cut by an ogival passage through which you can see the peacock-colored enamel back wall and the free standing washbasin.
Finally, an arched door in classic blue lacquered wood leads to the sleeping area with its clean lines and cozy atmosphere. The door, with its wooden profile that protrudes 70cm towards the dining room, is the centerpiece of the living area and hides the kitchen furniture from view.
The living room is the largest space of the house: a yellow curtain runs along the lying of the demolished partition, outlining the areas and drawing a soft boundary between the different functions.
Courtesy of AREA editorial office
---
A Roma, nel quartiere Appio Latino a pochi passi dal Parco della Caffarella, il duo romano La Macchina Studio ha trasformato un appartamento anni Cinquanta in uno spazio che coniuga architettura, teatro, musica e illustrazione.
In accordo con la giovane coppia di committenti, gli architetti hanno da una parte recuperato il pavimento preesistente e dall'altra hanno stravolto completamente la distribuzione interna per dare il via a una nuova narrazione.
Il progetto parte dall'inserimento a terra di nuovi materiali in corrispondenza delle tracce delle divisioni originali: la zona living è definita da una fascia netta in marmo nero e botticino, l'area lungo il corridoio riprende il disegno originale della pavimentazione con un legante rosato a base di polvere di pozzolana, la camera da letto si tinge con le nuances calde del microcemento rosso mattone. Il risultato è un accostamento di disegni, differenti grane e cromie che crea un effetto "collage", in contrasto con il bianco assoluto delle pareti intonacate.
L'appartamento si sviluppa longitudinalmente lungo il muro di spina, che rappresenta il limite tra spazio privato e di rappresentanza e crea un paesaggio ritmato da tre diversi elementi. Un armadio a ponte laccato bianco nasconde un piccolo studio intimo, silenzioso, isolato dal resto dell'abitazione. Una porta filomuro grigio-blu che sembra disegnata sulla parete, dà invece accesso alla salle de bain rivestita in mosaico bianco con fughe a contrasto, tagliata da un passaggio ogivale attraverso il quale si intravede la parete di fondo in smalto color pavone e il lavabo free standing.
Infine, una porta ad arco in legno laccato classic blue guida verso la zona notte dalle linee nette e l'atmosfera accogliente. La porta, con il suo profilo in legno che aggetta di 70cm verso la sala da pranzo, è il fulcro della zona giorno e nasconde alla vista i mobili della cucina.
Il living è lo spazio più ampio della casa: una tenda di colore giallo corre lungo la giacitura del tramezzo demolito, delineando gli ambiti e tracciando un confine morbido tra le diverse funzioni.
Per gentile concessione della rivista AREA