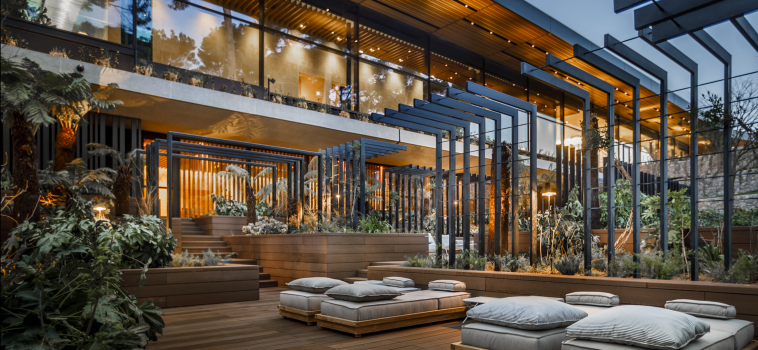 The Grand Park Hotel in Rovinj, owned by the Maistra Collection chain. It overlooks the sea and the Old Town of Rovinj, a Croatian town located in one of the most beautiful stretches of the Mediterranean Sea coast. The Grand Park Hotel is a refined place dedicated to high-level hospitality, between minimal taste and works of art.
Lissoni Casal Ribeiro has developed the interior project that refers to the rooms and all the common areas including the outdoor public areas on the promenade that connects the new structure to the historic center of Rovinj.
The hotel includes 2 receptions, 193 rooms and 16 suites, 2 restaurants, 1 pool bar, 1 spa (of 3,800 square meters), 1 lobby bar, 3 swimming pools (2 outdoor and 1 indoor) and the convention area.
Built in collaboration with the Architectural Studio 3LHD in Zagreb, the Grand Park Hotel Rovinj, designed as a leisure hotel, is spread over six levels fully integrated into the hill and surrounding vegetation. The spacious hall is the heart of the project from which you also access the restaurant developed on two levels, open all day, and the terrace from which you can enjoy a unique view of the city of Rovinj.
Also by Lissoni Casal Ribeiro is the curatorial project that concerns the choice of works of art by seven different artists inserted both in the common areas and in the rooms with the aim of creating a dialogue with the same interior project.
Courtesy of AREA editorial office
---
Il Grand Park Hotel di Rovigno, proprietà della catena Maistra Collection. Si affaccia sul mare e sul centro storico di Rovigno, cittadina croata situata in uno dei tratti più belli della costa del Mar Mediterraneo ed è un luogo raffinato dedicato all'ospitalità di alto livello, tra gusto minimal e opere d'arte.
Lissoni Casal Ribeiro ha sviluppato il progetto di interior che include le camere e tutte le aree comuni incluse le aree pubbliche esterne sul lungomare che collega la nuova struttura al centro storico di Rovigno.
L'albergo comprende 2 reception, 193 stanze e 16 suite, 2 ristoranti, 1 pool bar, 1 spa (di 3.800 mq), 1 lobby bar, 3 piscine (2 esterne e 1 interna) e l'area congressi.
Realizzato in collaborazione con lo Studio di architettura 3LHD di Zagabria, il Grand Park Hotel Rovinj, pensato come un leisure hotel, si sviluppa su sei livelli completamente integrati nella collina e nella vegetazione circostante. La spaziosa hall è il cuore del progetto da cui si accede anche al ristorante sviluppato su due livelli, aperto tutto il giorno, e alla terrazza da cui si può godere di una vista unica sulla città di Rovigno.
Sempre di Lissoni Casal Ribeiro è il progetto curatoriale che riguarda la scelta delle opere d'arte di sette diversi artisti inserite sia nelle aree comuni che nelle camere con l'obiettivo di creare un dialogo con lo stesso progetto d'interni.
Per gentile concessione della rivista AREA