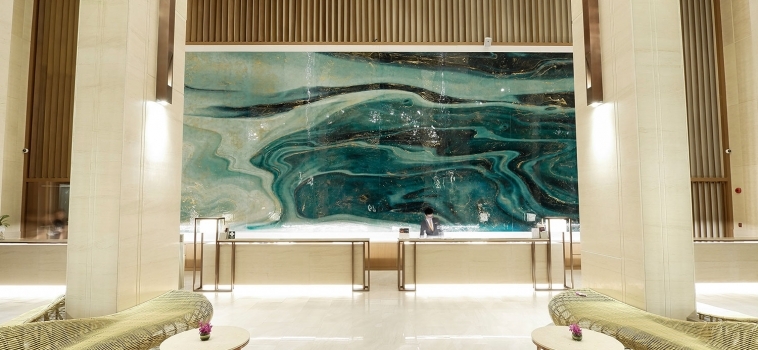 Amari Pattaya Thailand has recenly undergone a refurbishment programme of their entire hotel with artistic panels created by Alex Turco located at the entrance lobby. Positioned along the coastline on the idyllic north end of Pattaya Bay, the beachfront resort is the springboard to Pattaya's vibrant attractions and local culture.
The decorative art panels behind the reception lobby are bespoked to convey the hotels surrounding environment. A perfectly balanced mix of beautiful photography and multimedia graphics coupled with hand processed materials make Alex Turco's work an artistic breakthrough bringing to life an elegant art form. The theme behind these panels  depicts  the waves of the ocean and it was developed mutually between the artist and the client.
Iconic Studio 53 Bangkok and Essess Ltd Hong Kong jointly made this amazing project happen. The perfect harmony and link between industry professionals, the client's vision, and the artist's inspiration put in this emotional panel the "Wow" factor to all its visitors.
————————————————————————————————————————–
L'Amari Pattaya, in Tailandia, è stato interamente ristrutturato di recente. Per loro Alex Turco ha realizzato appositamente alcuni pannelli artistici che sono stati posizionati nella hall all'ingresso. Situato lungo la costa sull'idilliaca estremità nord della Baia di Pattaya, il resort fronte mare è il trampolino di lancio delle attrazioni di Pattaya e per la cultura locale.
I pannelli decorativi dietro la hall della reception sono pensati per trasmettere l'ambiente circostante. Un mix perfettamente equilibrato di bella fotografia e grafica multimediale abbinato a materiali lavorati a mano rendono il lavoro di Alex Turco una svolta artistica che dà vita a un'elegante forma d'arte. Il tema dei pannelli dipinge le onde dell'oceano in una scelta nata dalla collaborazione tra l'artista e il cliente.
L' Iconic Studio 53 di Bangkok e Essess Ltd., di Hong Kong, hanno reso possibile questo interessante e significativo progetto. La perfetta armonia e la collaborazione tra professionisti del settore, la visione del cliente e l'ispirazione dell'artista hanno creato un pezzo che trasmette emozioni e che lascia a bocca aperta tutti i visitatori dell'Amari Pattaya.