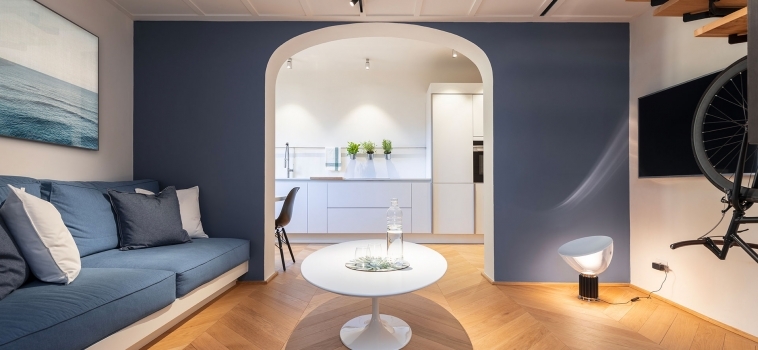 We could define it the "Architecture of the minimum spaces". This is the project realized by Pierattelli Architetture: an apartment of only 50 square meters in the heart of Florence. Developed on two levels, the house has been reconfigured and furnished with "custom made pieces" in order to fully utilize the available space.
A small entrance opens out to a double-height environment, where a round arch, the true focal point, appears as a backdrop that frames the kitchen and the living room, protagonists of the day area.
The upper floor is used as sleeping area, reached via a cantilevered staircase with a lacquered iron structure supporting a fixed-bike craft. The pride of the apartment is the small window from which you can admire the dome of the Renaissance church of the Holy Spirit.
The choice of materials, colours and finishes is dictated by the need to amplify the perception of depth of the environments. Throughout the apartment a palette of light colours has been privileged, except for the indigo blue wall, and the matched couch, that characterize, for contrast, the entire project. The attention to details is also reflected in the choice of furnishings, which include true icons of design.
---
La potremmo definire l'"Architettura degli spazi minimi": questo progetto di piccolo appartamento di Pierattelli Architetture di soli 50 metri quadri nel cuore di Firenze. Sviluppata su due livelli, la residenza è stata riconfigurata e arredata con "pezzi" realizzati su disegno che hanno consentito di liberare gli spazi a disposizione.
Un ingresso raccolto si apre verso un ambiente a doppia altezza dove un arco a tutto sesto, vero punto focale, appare come una quinta scenografica che incornicia cucina e living, protagonisti della zona giorno.
Il piano superiore, adibito a zona notte, si raggiunge tramite una scala a sbalzo con struttura in ferro laccato che sostiene una fixed bike artigianale. Fiore all'occhiello dell'appartamento è la piccola finestra dalla quale è possibile ammirare la cupola della chiesa rinascimentale di Santo Spirito.
La scelta di materiali, cromie e finiture, è dettata dall'esigenza di amplificare la percezione di profondità degli ambienti. In tutto l'appartamento è stata privilegiata una palette di colori chiari, fatta eccezione per la parete blu indigo e il divano abbinato, che caratterizzano, per contrasto, l'intero progetto. L'attenzione ai dettagli si traduce anche nella scelta di arredi, tra cui figurano vere e proprie icone di design.