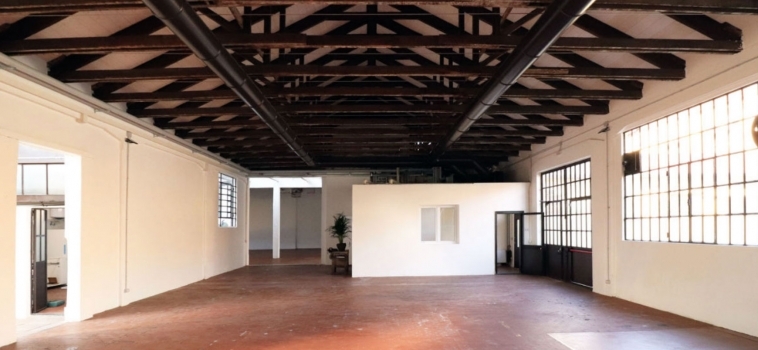 In via Privata Battista de Rolandi 14, in the north-eastern area of Milan, there are Officine De Rolandi, a new location for events, very close to Garage Italia, the ex – AGIP petrol station in piazzale Accursio recently recovered by Lapo Elkann and featuring the chef Cracco's restaurant.
Officine de Rolandi is a multifunctional space for exhibitions, photo shootings, workshops and seminars, available to anyone who loves everything that revolves around furniture and design.
Officine De Rolandi opened after a precise renovation wanted by Ludovica Cabib, a former manager with a passion for interior design, which has transformed an area of 3,000 square meters, made up of sheds and yards built in the course of the '900, in a unique reality in the Milan panorama, without altering its vocation.
Where there were factories for the construction of ladders, aerial, umbrellas, furniture, laboratories, turners and workshops, we can now find the dynamic activities of those who work in the world of art, craft, furniture and design. A place where it is already possible to rent workshops, but which wants to become above all a workshop of doing and thinking.
An innovative idea of vertical co-working, an integrated supply chain in which each of the participants can benefit from the proximity not only of physical spaces, but also from the relationships with architects, designers, interior designers and private individuals. Recovered areas which become a point of exchange of expertise and business accelerators.
---
Nella via privata Battista de Rolandi 14, nella zona nord est di Milano, nascono le Officine De Rolandi, una nuova location per eventi, a due passi da Garage Italia, l'ex- stazione di benzina AGIP di piazzale Accursio recuperata da Lapo Elkann con il ristorante dello chef Cracco.
Si tratta di uno spazio multifunzionale per mostre, shooting fotografici, laboratori e workshop, a disposizione di chiunque ami tutto ciò che ruota intorno all'arredo e al design.
Le Officine De Rolandi hanno aperto dopo un lavoro di attenta ristrutturazione voluto da Ludovica Cabib, ex manager con la passione del design d'interni, che ha saputo trasformare un comprensorio di 3.000 metri quadri, fatto di capannoni e cortili edificati nel corso del '900, in una realtà unica nel panorama milanese, senza snaturarne la vocazione.
Dove sorgevano opifici per la realizzazione di scale aeree, ombrelli, complementi d'arredo, laboratori di tornitori e officine, si raccolgono ora le dinamiche attività di chi opera nel mondo dell'arte, dell'artigianato, dell'arredamento e del design. Un luogo dove è già possibile affittare laboratori ma che vuole diventare soprattutto un laboratorio del fare e del pensare.
Un'idea innovativa di co-working verticale, una filiera integrata nella quale ognuno dei partecipanti può trarre vantaggi dalla vicinanza non solo fisica degli spazi, ma anche dai rapporti con architetti, designer, arredatori d'interni e privati. Luoghi recuperati che diventano punto di scambio di competenze e acceleratori di business.