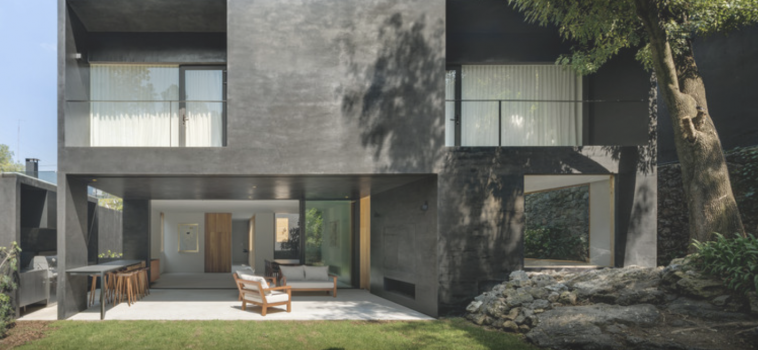 Courtyards and double-height spaces create a bright and airy atmosphere inside this black Mexico City house, designed by the architecture studio PPAA. Casa Lluvia is located in Jardines del Pedregal, a residential neighborhood in the southern part of Mexico City.
It was Luis Barragán who designed the masterplan of this area in the 1940s. The house, which is spread over two floors, is located on a long rectangular site of 1,076 square meters. A family home that integrates large green spaces and large private courts.
The exterior looks like a block dug only by the loggias and the access opening. The external walls are made of concrete block of black color called Corev. The interior is characterized by light finishes that contrast with the black exterior. The rooms and corridors have white walls and light gray floors. The windows are lined with white oak, the same material used for wall panels and floor in some areas.
The public and private areas are distributed on two separate levels. On the ground floor the designers incorporated a garage, a laundry room, a kitchen, a dining room, a living room and a family room. The public area extends onto a terrace with kitchen equipment and a built-in fireplace.
Courtesy of AREA editorial office
---
Cortili e spazi a doppia altezza creano un'atmosfera luminosa e ariosa all'interno di questa casa nera di Città del Messico, progettata dallo studio di architettura PPAA.
Casa Lluvia si trova a Jardines del Pedregal, un quartiere residenziale nella parte meridionale di Città Del Messico.
Fu Luis Barragán a progettare il masterplan di questa area negli anni '40. L'abitazione, che si sviluppa su due piani, si trova su un lungo sito rettangolare di 1.076 metri quadrati. Una casa familiare che integra grandi spazi verdi e grandi corti private.
L'esterno della cosa si presenta come un blocco scavato solo dalle logge e dall'apertura di accesso. Le pareti esterne sono realizzate in blocco di cemento di colore nero chiamato Corev. L'interno è caratterizzato da finiture chiare che contrastano con l'esterno nero. Le camere e i corridoi hanno pareti bianche e pavimenti grigio chiaro. Le finestre sono rivestite in rovere bianco, lo stesso materiale utilizzato per i pannelli delle pareti e il pavimento in alcune zone.
Le aree pubbliche e private sono distribuite su due livelli distinti. Al piano terra, i progettisti hanno incorporato un garage, una lavanderia, una cucina, una sala da pranzo, un soggiorno e una camera familiare. L'area pubblica si estende su una terrazza con attrezzature per la cucina e un caminetto incorporato.
Per gentile concessione della rivista AREA