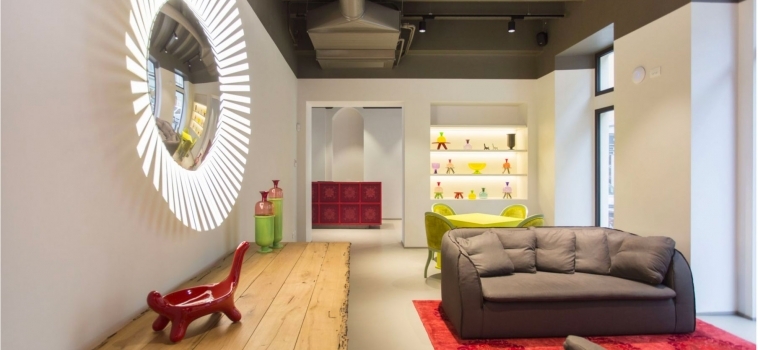 The Savona 18 Suites, by the hotel group Blu Hotels, was created by Aldo Cibic transforming a typical banister house in via Savona 18 – Milan – in a design hotel.
The result is a hotel that evokes a big house, an intimate and cosy place, which offers its guests the unique experience of living the atmosphere of the old Milan at walking distance from one of the most lively and cosmopolitan city district.
The retro structure – expertly recovered – mix itself with a great balance with the contemporary furnishings and the interior design project.
Starting from the lobby, which appears like a real art gallery with a great attention to every detail. The bar at the entrance is reminiscent of an out-of-scale Tibetan piece of furniture, while the bench made of yellow tiles, along with the graphics of the walls contrast with the neutral tones of the room, creating the effect of warm minimalism.
Sofas, carpets, chandeliers, mirrors and accessories, designed by Aldo Cibic and Paola C. by Aldo Cibic, decorate the living room and the "Petit Cafe", giving a touch of color and a creative flair.
---
Il Savona 18 Suites, del gruppo alberghiero Blu Hotels, è stato realizzato da Aldo Cibic trasformando una tipica casa di ringhiera milanese in via Savona 18 a Milano in un design hotel.
Il risultato è un albergo che rievoca una grande casa, un posto intimo e accogliente che offre ai propri ospiti l'inedita esperienza di vivere l'atmosfera della vecchia Milano a due passi da uno dei quartieri più vivaci e cosmopoliti della città.
La struttura retrò – sapientemente recuperata – si combina con grande equilibrio con la contemporaneità degli arredi e del progetto di interior design.
A partire dalla lobby, che appare subito come una vera e propria galleria d'arte, curata in ogni dettaglio. Il bancone all'ingresso ricorda un mobile tibetano fuori scala, mentre la panca gialla di piastrelle, insieme alla grafica delle pareti contrastano con i toni neutri della stanza, creando un effetto di caldo minimalismo.
Divani, tappeti, lampadari, specchi e accessori, firmati Aldo Cibic e Paola C. by Aldo Cibic, decorano il salotto e il "Petit Cafè", dando un tocco di colore e un estro ricercato agli ambienti.