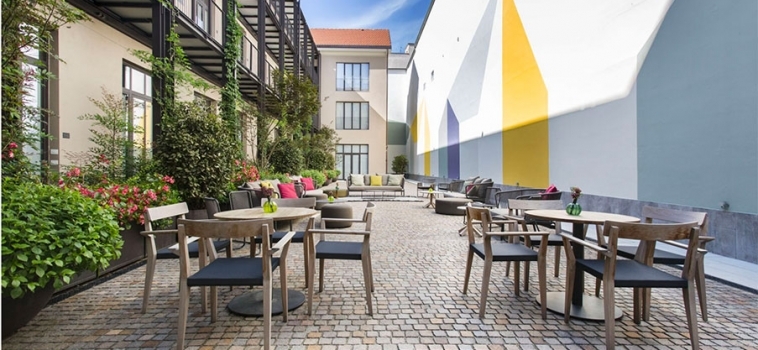 Let's go back to talking about the features of the Savona 18 Suites. The inner yard of 310 sq m has been transformed with sofas and armchairs in a large open air living area, which features a mural signed by Aldo Cibic, who supervised the construction of the entire property for the account of the Blu Hotels chain.
The large courtyard – facing the most exclusive suites – is meant to be a space open to everybody, strongly echoing the atmosphere of the Milanese banister house.
Savona 18 Suites consists of 43 rooms, furnished in different ways to proposing a wide range of choice even to the regular clients who are in search of original experiences. The furnishings vary between vintage objects and contemporary design, with paintings, colors, wood and fabrics that give each room a unique character and personality.
The furnishings of the rooms, as well as those of the common spaces, may be purchased by the guests, thus allowing everyone to bring with them some small discoveries: a sign of the growing relationship between interior design and customer experience. A trend in the way people choose their reception facilities, more and more often based between art galleries and places of participation.
---
Torniamo a parlare delle caratteristiche del Savona 18 Suites. La corte interna di 310 mq è stata trasformata con divani e poltrone in un grande salotto open air, in cui spicca un murale firmato da Aldo Cibic, che ha curato la realizzazione dell'intera struttura per conto della catena alberghiera Blu Hotels.
La grande corte – su cui affacciano le suites più esclusive – è pensata per essere uno spazio aperto a tutti, nel quale riecheggia forte l'esperienza della casa di ringhiera milanese.
Savona 18 Suites si compone di 43 stanze, arredate tutte in modo differente per offrire una grande ricchezza di scelta anche ai clienti ricorrenti, in cerca di esperienze sempre originali.
Gli arredi variano tra oggetti vintage e di design contemporaneo, con quadri, cromatismi, legni e tessuti che conferiscono a ciascuna camera un carattere e personalità unici.
Gli arredi delle stanze, così come quelli degli spazi comuni, possono essere acquistati dagli ospiti, per consentire a ciascuno di portare con sé delle piccole scoperte: segno della crescente relazione tra design degli interni ed esperienza dei clienti. Una tendenza sempre più diffusa nel determinare le strutture di accoglienza al confine tra gallerie d'arte e luoghi di partecipazione.