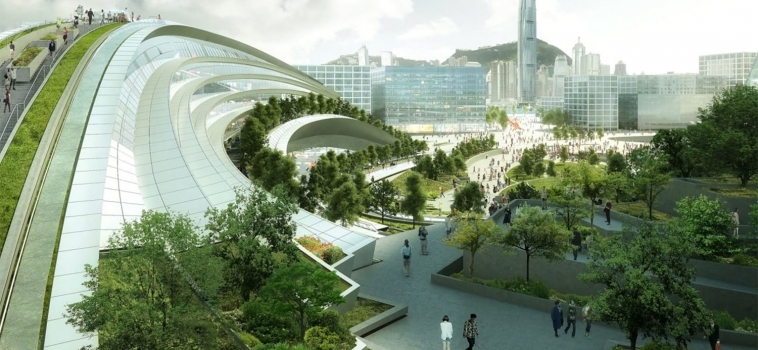 On September, 23rd the Guangzhou-Shenzhen-Hong Kong Express Rail Link was inaugurated together with the new futuristic railway station. The train will connect Hong Kong's West Kowloon station and the Guangzhou South station by way of the industrial hub of Shenzhen. The express railway connecting Hong Kong and the mainland China city of Guangzhou in as little as 48 minutes instead of more than 2 hours will provide a boost to tourism and business.
The mainland side of the rail link opened in 2015, but the Hong Kong side has suffered from significant delays and budget overruns.
The project is a core component of Beijing's Greater Bay Area plan to create a vast economic zone encompassing Hong Kong, Macau and nine neighboring mainland cities, including Shenzhen, Guangzhou and Dongguan.
Some in Hong Kong fear that the project will undermine the "one country, two systems" scheme that grants high levels of autonomy to the territory. The ordinary people on the other end seems enthusiastic of the new building. On the inauguration day the new railway station and its many technological features attracted some 20.000 visitors, waiting hours in line to enter the building.
---
Il 23 settembre è stata inaugurata la nuova linea Guangzhou-Shenzhen-Hong Kong Express Rail Link insieme alla nuova futuristica stazione ferroviaria di Hong Kong
Il treno collegherà la stazione West Kowloon di Hong Kong con la stazione sud di Guangzhou attraverso lo snodo industriale di Shenzhen.
La linea express collegherà Hong Kong alla città di Guangzhou sulla terraferma cinese in 48 minuti invece delle 2 ore abbondanti necessarie finora, dando in forte impulso al turismo e al mondo degli affari.
La tratta sulla terraferma è stata aperta nel 2015 ma la parte di Hong Kong in questi anni ha sofferto di forti ritardi e di un consistente superamento del budget.
Il progetto è parte fondamentale del piano di sviluppo della Greater Bay Area di Pechino, volto a creare una vasta zona economica che comprende Hong Kong, Macao e altre nove città sulla terraferma, tra cui Shenzhen, Guangzhou e Dongguan.
C'è chi a Hong Kong teme che il progetto mini lo schema "un Paese, due sistemi" che garantisce alti livelli di autonomia del territorio. D'altro canto la gente comune è parsa entusiasta della nuova costruzione. Nel giorno dell'inaugurazione la nuova stazione ferroviaria e le sue molteplici caratteristiche tecnologiche hanno attratto circa 20.000 visitatori che hanno atteso in coda la possibilità di entrare.