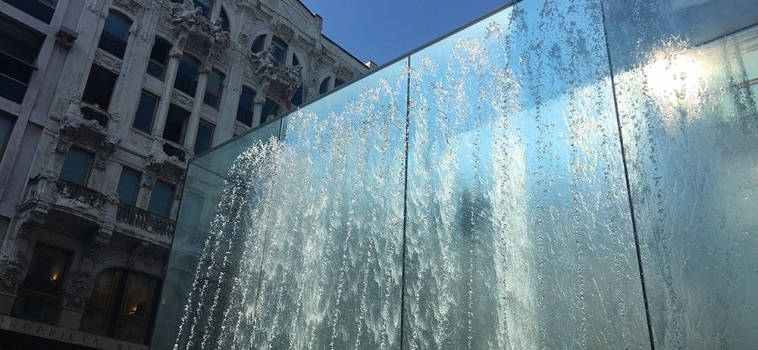 The new flagship store of Apple in Piazza Liberty in Milan downtown, designed by Foster + Partners, welcomes the visitor with a large transparent fountain on the square steps, meant to represent joy and dynamism, where the water is the project protagonist and the creator of interactive experiences and multi-sensory experiences.
Visitors can get into the fountain through a glass covered entrance surrounded by images and sounds of the vertical water jets splashed against the walls higher than 7 feet.
The fountain flows at the base of the amphitheater, made up by large stone steps that descend below the road level, opening up on to a stage, supported by the other "wall of water" of the fountain.
The entire square is paved with Gray Gneiss, a typical stone of Lombardy, and is surrounded by 21 new trees of Gleditsia Sunburst.
The interior is a bright monolithic space, with the ceiling following the steps of the amphitheatre while the stairs to the store are made up of steps cantilever coated in polished stainless steel.
---
Il nuovo store monomarca Apple in Piazza Liberty nel centro di Milano, progettato da Foster + Partners, accoglie il visitatore con una grande fontana trasparente su una piazza a gradoni che vuole rappresentare gioia e dinamicità dove l'acqua è protagonista del progetto e artefice delle esperienze interattive e multisensoriali che si vivono in questo spazio.
I visitatori possono entrare nella fontana attraverso un ingresso coperto in vetro avvolto dalle immagini e dai suoni di getti d'acqua verticali che schizzano contro le pareti alte oltre 7 metri.
La fontana confluisce alla base dell'anfiteatro, costituito da ampi gradini di pietra che scendono al di sotto del livello stradale, aprendosi su di un palcoscenico, sostenuto dall'altro "muro d'acqua" della fontana.
L'intera piazza è pavimentata con Beola Grigia, una tipica pietra locale della Lombardia, e circondata da 21 nuovi alberi di Gleditsia Sunburst.
L'interno è uno spazio luminoso e monolitico, con il soffitto che segue il profilo a gradoni dell'anfiteatro mentre le scale che conducono al negozio sono costituite da gradini a sbalzo rivestiti in acciaio inossidabile lucido.