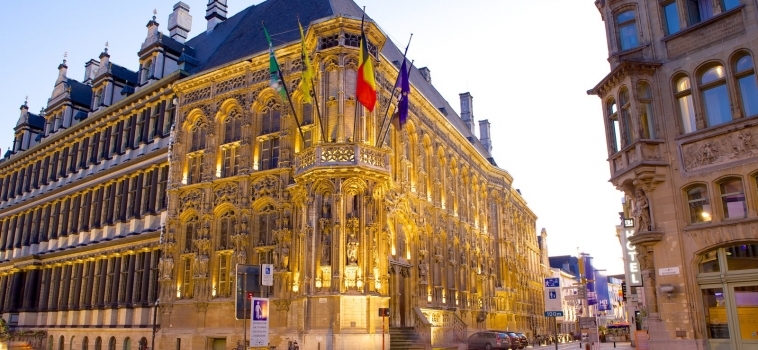 This schizophrenic building quite obviously has two faces. The Hoogpoort side shows the flamboyant, late-Gothic style of the early 16th century. You can see the Counts of Flanders in the niches on the facade, althuogh these were only added in the early 1900s.
Inside the building, there are no less than 51 rooms including the Wedding Chapel, were the inhabitants of Ghent say "I do". Many a bride has already stood by the wonderfully romantic glas windows or wandered through the labyrinth of hallways and rooms in the building.
In the younger Renaissance wing (1559-1618), you can admire Doric, Ionic and Corinthian columns and pilasters inspired by Italian Renaissance palaces.
---
Questo palazzo schizofrenico ha chiaramente due facce. Il lato su Hoogpoort mostra uno sgargiante stile tardo-gotico degli inizi del 16mo secolo. Nelle nicchie sulla facciata si possono vedere le statue dei Conti delle Fiandre, anche se queste sono state aggiunte nei primi del Novecento.
All'interno dell'edificio ci sono almeno 51 sale compresa la Cappella Matrimoniale dove gli abitanti di Gand si recano per dire "Sì". Già molte spose si sono soffermate davanti alle incredibilmente romantiche vetrate o hanno girovagato nel labirinto di corridoi e sale di questo palazzo.
Nella più recente ala rinascimentale (1559-1618) si possono ammirare colonne e pilastri dorici, ionici e corinzi che traggono ispirazione dai palazzi rinascimentali italiani.