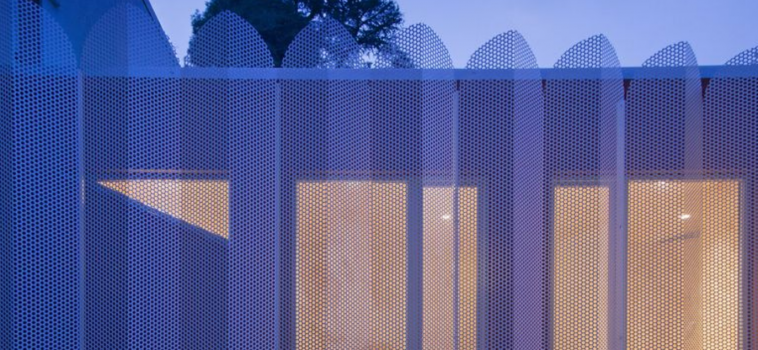 A micro-apartment of only 25 square meters located in the heart of the village of Albino in Val Seriana, Bergamo. The renovation project is the work of Francesca Perani and concerns the reuse of an open porch, once used as a warehouse, adjacent to a private garden. A minimal and multifunctional lodge located on the ground floor, which summarises functionality, style and resourcefulness of a contemporary living space with the addition of a roof garden.
The renovated building is configured as an extension of a modern villa built in 1968 by the architect Armen Manoukian and renovated by Francesca Perani in 2019. With this new intervention, the external volumetric shape has been kept unchanged, favouring the maintenance of large openings and a façade color linked to earth tones while a solemn and at the same time playful sunscreen characterizes the entire project, revealing itself as a second skin. A white metal grid folds freely in front of the south facade and defines an exclusive triangular garden: a declared reference to the ancient arches and blinds screens adopted here in response to the need for privacy of the mini-apartment.
The limited size and extreme narrowness of the existing building suggested a completely customized interior design, where flexibility and multipurpose use became key factors. A large continuous seat is both a container and a bed, while the cupboards at the entrance hide desk spaces. The interior design is made up of two monochromatic areas in stark contrast. A warm and welcoming OSB (Oriented Stand Board) defines the living area in a single textured surface, joyfully interspersed with the use of vintage materials, 60s handles or the marble effect printed stoneware used as a top kitchen in pop version. An intense glossy blue resin, referring to the Persian indigo, covers all the walls of the bathroom, where white taps and accessories take shape. The shower is characterized by the existing stone wall and takes advantage, thanks to the French window, of the outdoor space dedicated to the private garden. The diagonal lines define the design of the kitchen top and the windows ensuring a dynamic corridor in which the double wooden niches obtained from the main openings facilitate a frontal conversation.
Low cost materials, attention to thermal insulation, flexibility and privacy are the key elements of this project, where contemporary architecture and Iranian culture merge creating a reassuring feeling of intimacy and warmth.
Courtesy of AREA editorial office
---
Un microappartamento di soli 25 metri quadri situato nel cuore del paese di Albino in Val Seriana, Bergamo. Il progetto di ristrutturazione è opera di Francesca Perani e riguarda il riuso di un portico aperto, un tempo utilizzato come magazzino, contiguo a un giardino privato. Un lodge minimale e multifunzionale situato a piano terra, che riassume funzionalità, stile e intraprendenza di uno spazio abitativo contemporaneo con l'aggiunta di un giardino pensile.
L'edificio ristrutturato si configura come un ampliamento di una villa moderna costruita nel 1968 dall'architetto Armen Manoukian e ristrutturato da Francesca Perani nel 2019. Con questo nuovo intervento, la forma volumetrica esterna è stata mantenuta inalterata, privilegiando il mantenimento di grandi aperture e un colore di facciata legato ai toni della terra mentre un solenne e al tempo stesso giocoso frangisole caratterizza l'intero progetto rivelandosi come una seconda pelle. Una griglia metallica bianca si piega liberamente di fronte alla facciata sud e definisce un giardino triangolare esclusivo: un riferimento dichiarato agli antichi archi e schermature persiane qui adottato in risposta alla necessità di privacy del mini-appartamento.
Le dimensioni limitate e l'estrema ristrettezza dell'edificio esistente hanno suggerito un progetto completamente su misura degli interni, dove flessibilità e multiuso sono diventati fattori chiave. Un'ampia seduta continua è sia contenitore che letto, mentre le armadiature all'entrata nascondono spazi scrivania. Il design degli interni è composto da due aree monocromatiche in forte contrasto. Un caldo e accogliente OSB (Oriented Stand Board, pannello a scaglie orientale) definisce l'area living in un'unica superficie tramata, gioiosamente intervallata dall'utilizzo di materiali vintage, maniglie anni '60 o dal grès stampato a effetto marmo utilizzato come piano cucina in versione pop. Un'intensa resina blu lucida, riferimento all'indaco persiano, riveste tutte le pareti del bagno, dove prendono forma rubinetterie e accessori bianchi. La doccia è caratterizzata dalla parete esistente in pietra e approfitta, grazie alla porta-finestra, dello spazio esterno dedicato al giardino privato. Le linee diagonali definiscono il design del piano cucina e dei serramenti assicurando un corridoio dinamico in cui le doppie nicchie in legno ricavate dalle aperture principali facilitano una conversazione frontale.
Materiali a basso costo, attenzione all'isolamento termico, flessibilità e privacy sono gli elementi chiave di questo progetto, dove architettura contemporanea e cultura iraniana si fondono creando una sensazione rassicurante di intimità e a calore.
Per gentile concessione della rivista AREA