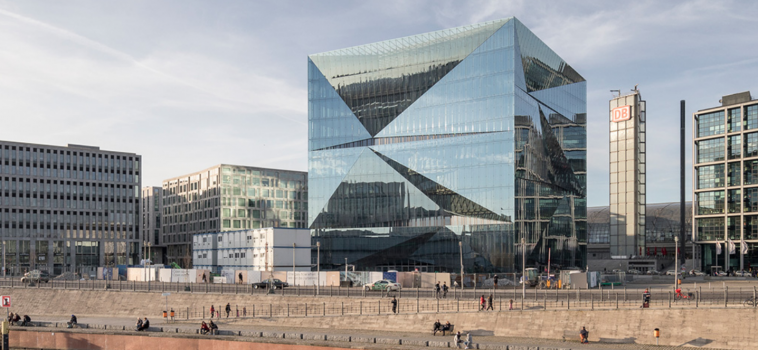 Cube Berlin, realized by 3XN Architects, is the sculptural hub of one of the most important squares in Berlin. Here it will promote the life and activity of the city and provide a true workplace of the future for its tenants, excelling in terms of sustainability, resilience and knowledge sharing opportunities.
It will be the first office specifically built to support the 21st century trends in the workplace, with multi-tenant sites, inter-organizational communication, activity-based workstations, shared structures and a dynamic office layout. It will also be one of the smartest buildings in Europe. The integration of the ideals of the "Internet of things" in the design will make it possible to optimize everything from access and control of the internal climate to maintenance and energy supply, to user behavior.
The opening of the new Central Station in 2006 marked the starting point for the development of "Europa city" – a completely new urban district within Berlin. Washington Platz is one of Berlin's main entry points for many and a key point for new development.
Cube Berlin completes the original masterplan for Washington Platz and it's unique in the fact that the site has a total exposure on all facades. The form has become critical for the city of Berlin. It was important that this project achieved a sculptural quality on its own, without eclipsing the new Central Station. For this reason, the 3XN project provides a relief and reflective facade with a kaleidoscopic reading of the surrounding environment.
Courtesy of AREA editorial office
---
Cube Berlin, realizzato da 3XN Architects, è il fulcro scultoreo di una delle piazze più importanti di Berlino. Qui promuoverà la vita e l'attività della città e fornirà un vero e proprio luogo di lavoro del futuro per i suoi inquilini, eccellendo in termini di sostenibilità, resilienza e opportunità di condivisione della conoscenza.
Sarà il primo ufficio costruito appositamente per sostenere le tendenze del 21° secolo sul posto di lavoro, con un'occupazione multi-tenant, una comunicazione inter-organizzativa, postazioni di lavoro basate sulle attività, strutture condivise e un layout dinamico dell'ufficio. Sarà anche uno degli edifici più intelligenti d'Europa. L'integrazione degli ideali di "Internet delle cose" nella progettazione consentirà di ottimizzare tutto, dall'accesso e il controllo del clima interno alla manutenzione e all'approvvigionamento energetico, fino al comportamento degli utenti.
L'apertura della nuova Stazione Centrale nel 2006 ha segnato il punto di partenza per lo sviluppo di "Europa city" – un quartiere urbano completamente nuovo all'interno di Berlino. Washington Platz è uno dei principali punti d'ingresso di Berlino per molti e un punto chiave per il nuovo sviluppo.
Cube Berlin completa il masterplan originale per Washington Platz ed è unico per il fatto che il sito ha un'esposizione totale su tutte le facciate. La forma è diventata critica per la città di Berlino. Era importante che questo progetto raggiungesse da solo una qualità scultorea, senza eclissare la nuova Stazione Centrale. Per questo motivo, il progetto di 3XN prevede una facciata in rilievo e riflettente con una lettura caleidoscopica dell'ambiente circostante.
Per gentile concessione della rivista AREA