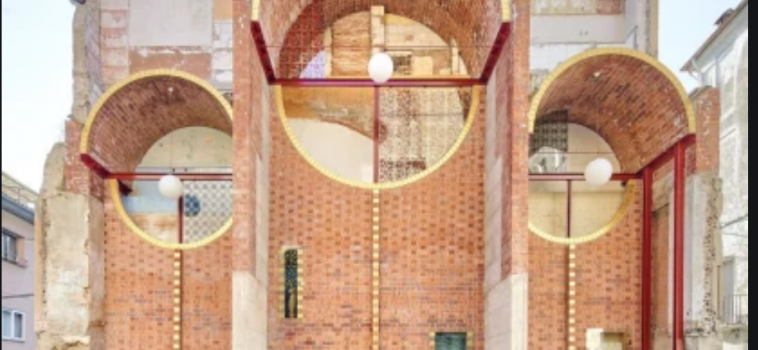 In the historic center of Olot, a municipality located in the Autonomous Community of Catalonia, stands Casa Can Sau, obtained from a space that was freed following the demolition of a church for the road renovation.
The project was realized by unparelld'arquitectes.
The urban void that had been created as a result of the works was characterized by a wall and four stepped buttresses adjacent to the side facade of the Church of the patron Saint of Olot. Upon the request of the municipality it was decided to transform this small abandoned lot into a place of rediscovered sociality.
From these urban fragments, born for purely technical needs, open air aisles were designed. The brick barrel vaults, referring to the section of the church on which the new structure stands, give a certain monumentality to the whole complex, despite its small size.
An emergency scenario that completes what the buttresses suggest, revealing in the background the traces of domestic activity, was built with bricks. A building with three barrel vaults and four niches with a porosity of the material that reflects the porosity to which this architecture is aimed for: a meeting place full of liveliness, with that human exchange necessary for the life of the community and the city.
The intervention is completed by allegorical elements, referring to the history of the neighborhood and placed in the niches of the façade, realized by the visual artist Quim Domene.
Courtesy of AREA editorial office
---
Nel centro storico di Olot, un comune situato nella comunità autonoma della Catalogna, sorge Casa Can Sau, ricavata da uno spazio che si è liberato a seguito della demolizione di una chiesa per il rifacimento della strada.
Il progetto è opera dello stuio d'architettura unparelld'architectes.
Il vuoto urbano che si era creato a seguito dei lavori era caratterizzato da un muro di cinta e quattro contrafforti a gradoni adiacenti alla facciata laterale della chiesa del santo patrono di Olot. Su richiesta del comune si è deciso di trasformare questo piccolo lotto abbandonato in un luogo di socialità ritrovata.
Da questi frammenti urbani, nati per esigenze puramente tecniche, vengono ideate navate open air. Le volte a botte in mattoni, rimando in sezione della chiesa su cui nasce la nuova struttura, conferiscono all'insieme una certa monumentalità, malgrado le sue dimensioni ridotte.
Con il mattone è stato costruito uno scenario di emergenza che completa ciò che i contrafforti suggeriscono, rivelando sullo sfondo le tracce dell'attività domestica. Una costruzione con tre volte a botte e quattro nicchie con una porosità del materiale che rispecchia la porosità alla quale questa architettura si predispone: luogo di incontro e vivacità, con quello scambio umano necessario alla vita della comunità e della città. Completano l'intervento elementi allegorici alla storia del quartiere, opera dell'artista visivo Quim Domene, posti nelle nicchie della facciata.
Per gentile concessione della rivista AREA