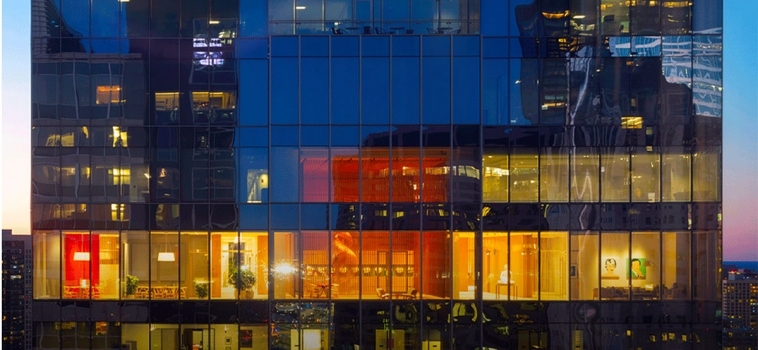 The new offices – designed by studio Alvisi Kirimoto, Rome, and located on the 32nd floor of a skyscraper in the lively ex-industrial area of West Loop, Chicago – seem to float in the air.
The project, designed to accommodate the headquarters of the customer, and part of his artwork collection, covers a surface of 2,600 sqm, in a building 224 m high, located in the heart of the city, directly on the bank of the river.
Upon entering, there are two contrasting environments: on one hand the reception and on the other the playroom, both characterized by a large window connecting visitors with the two faces of Chicago, the most urban on a side and the more territorial on the other. The North face hosts the most representative areas, while the back oriented to the South accommodates private offices and some common spaces. The interior is characterized by walls in natural wood full-height partitions, glass panels and suspended panels. The flexibility and transparency of the elements allow you to enjoy breathtaking views.
The Winter Garden, multipurpose place of double-height, represents the beating heart of the project. Similar to a light box, the structure allows to direct the light and spread it rarefied in the adjacent spaces. To complete the room there is a suspended sculpture in the bamboo, created on commission by the Japanese artist Ueno Masao, and the table designed by Junko Kirimoto, finished in Japanese lacquer. The use of color is thought to inspire serenity, but also to draw the space or define its function.
The art plays a fundamental role: the offices host a holistic exhibition of over 1,000 square meters with the pieces from the private collection of the owner, in a succession of spaces that penetrate each other.
---
Sembrano galleggiare nell'aria i nuovi uffici direzionali disegnati dallo studio romano Alvisi Kirimoto situati al 32° piano di un grattacielo nel vivace quartiere ex-industriale di West Loop, a Chicago.
Il progetto, pensato per ospitare il quartier generale del cliente e parte della sua collezione di opere d'arte, si sviluppa su di una superficie di 2.600 mq, all'interno di un edificio alto 224 m, che sorge nel cuore della città, sulla sponda dell'omonimo fiume.
Entrando, colpiscono due ambienti contrapposti: da un lato la reception e dall'altro la playroom, entrambe caratterizzate da una grande vetrata che mette in comunicazione il visitatore con i due volti di Chicago, quello più urbano da una parte, e quello più territoriale dall'altra. Il fronte Nord ospita le funzioni più rappresentative e di aggregazione, mentre il retro orientato a Sud accoglie gli uffici privati e alcune aree comuni. Gli interni sono caratterizzati da pareti in legno naturale a tutta altezza, partizioni a vetrata e pannelli sospesi. La grande flessibilità e trasparenza degli elementi consente di godere di panorami mozzafiato.
Il Winter Garden, luogo polifunzionale a doppia altezza, rappresenta il cuore pulsante del progetto.  Simile a una scatola luminosa, la struttura consente di orientare la luce e di diffonderla rarefatta negli spazi adiacenti. Completano la stanza una scultura sospesa in bambù, creata su commissione dall'artista giapponese Ueno Masao, e il tavolo disegnato da Junko Kirimoto, con finitura in lacca giapponese. Anche l'uso del colore è pensato per infondere serenità, ma anche per disegnare lo spazio o definirne la funzione.
L'arte gioca un ruolo fondamentale: gli uffici ospitano un percorso espositivo olistico di oltre 1.000 mq tra i pezzi da collezione del committente, in un susseguirsi di spazi che si compenetrano.