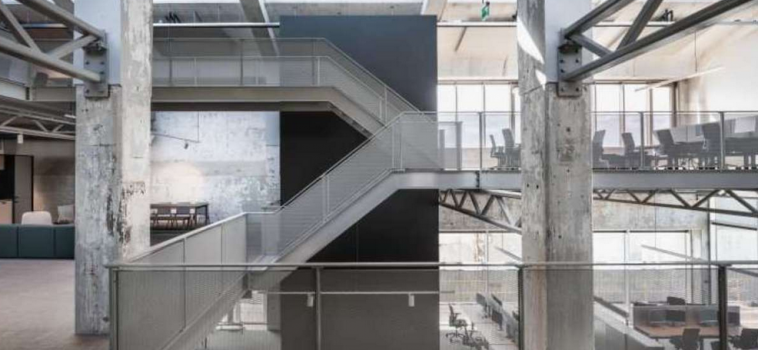 Vision and design converse and complement each other in this cooperation creation of HofmanDujardin and SchipperBosch, located on the cleantech campus of Industriepark Kleefse Waard in Arnhem, The Netherlands.
A former nylon factory is transformed into a new steel platform structure hanging from the existing reinforced concrete structure transforming the building into a dynamic office space.
In the former production shed, which housed huge boilers, a new wooden staircase forms the starting point of a new path connecting all the new floors. The new floors hung in the open space as an elaborate three-dimensional composition.
Next to the main entrance stretches a long bar element that also serves as a reception. On the ground floor there are also several meeting rooms and a restaurant. A new large void with a grandstand staircase allows daylight to enter the underground while the staircase can also be used as a large space for presentations and events. The elevator is hidden in a black volume that penetrates all floors.
The furniture is also functional to the space dedicated to collaboration and moments of concentration. The project is based on a progression of privacy levels: the pantries and living rooms are closer to the central staircase, while the workstations are concentrated at the ends of the platforms. The first floor is characterized by a jungle of plants in which employees can work between one plantation and another. Colors and materials add to the existing concrete with a warm gray base tone and complementary colors in meeting rooms.
The building is connected to a local power plant that works with local wastewater, energy and waste products. To maintain a certain unity on campus, all the renovations of the facades of the neighborhood were designed by Schipper Bosch.
Courtesy of AREA editorial office
---
Visione e design dialogano e si completano in questa cooperazione di HofmanDujardin e SchipperBosch, situata nel campus cleantech dell'Industriepark Kleefse Waard ad Arnhem in Olanda. Un'ex fabbrica di nylon viene trasformata in una nuova struttura di piattaforme in acciaio appese alla struttura in cemento armato esistente trasformandolo l'edificio in uno spazio dinamico per uffici.
Nell'ex capannone di produzione, che ospitava enormi caldaie, una nuova scala in legno costituisce il punto di partenza di un nuovo percorso che collega tutti i nuovi piani. I nuovi pavimenti sono appesi nello spazio aperto come un'elaborata composizione tridimensionale.
Accanto all'ingresso principale si estende un lungo elemento bar che funge anche da reception. Al piano terra si trovano anche diverse sale riunioni e un ristorante. Un nuovo grande vuoto con una scala a tribuna permette alla luce del giorno di entrare nel sotterraneo mentre la scala può essere utilizzata anche come grande spazio per presentazioni ed eventi. L'ascensore è nascosto in un volume nero che penetra tutti i piani.
Anche l'arredamento è funzionale allo spazio dedicato alla collaborazione e ai momenti di concentrazione. Il progetto si basa su una progressione dei livelli di privacy: le dispense e i salotti sono più vicini alla scala centrale, mentre le postazioni di lavoro sono concentrate alle estremità delle piattaforme. Il primo piano è caratterizzato da una giungla di piante in cui i dipendenti possono lavorare tra una piantagione e l'altra. I colori e i materiali si aggiungono al cemento esistente con un tono di base grigio caldo e colori complementari nelle sale riunioni.
L'edificio è collegato ad un impianto energetico locale che funziona con acque reflue, energia e prodotti di scarto locali. Per mantenere una certa unità nel campus, tutte le ristrutturazioni delle facciate del quartiere sono state progettate da Schipper Bosch.
Per gentile concessione della rivista AREA