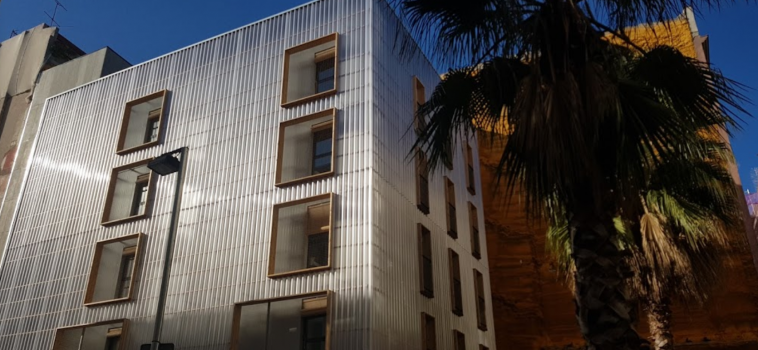 APROP is a steel and polycarbonate building built in Barcelona's Ciutat Vella.
The project was selected among the best 11 works in the Country in 2019 and is a finalist for the Fad prize for architecture and interior design, among the most prestigious of the Iberian Peninsula. The designers are also part of the Atri collective (David Juárez Latimer-Knowles, Jon Begiristain Mitxelena, Yaiza Terré Alonso) engaged in the construction of affordable housing, bringing together processes of industrialization, energy efficiency and participation.
The structure consists of prefabricated modules that combine to form a compact volume. It consists of 12 accommodation units, 8 single and 4 double modules.
Around this compact volume, a polycarbonate facade is designed to respond to lot alignments. This double skin serves as a separation between the external environment and the containers, providing a greenhouse effect, with climatic and spatial advantages.
The circulation core is strategically positioned in the partition wall, resolving the conflict with the adjacent building and ensuring access to all dwellings through walkways, with an adequate size to allow other uses besides circulation.
The ground floor is reserved for common uses and services for the neighborhood. An open and transparent space has direct access to the Square, which allows different uses. The apartments are equipped with balconies, partly hidden behind the polycarbonate "skin".
These housing structures are characterized by being modular, transportable and removable, allowing fast mobilization and can incorporate some public structures and spaces for local use.
Courtesy of AREA editorial office
---
APROP è un edificio di acciaio e policarbonato sorto nella Ciutat Vella di Barcellona.
Il progetto è stato selezionato tra le migliori 11 opere dello Stato nel 2019 ed è finalista al premio Fad di architettura e interior design, tra i più prestigiosi della penisola iberica. I progettisti fanno parte inoltre del collettivo Atri (David Juárez Latimer-Knowles, Jon Begiristain Mitxelena, Yaiza Terré Alonso) impegnato nella costruzione di alloggi accessibili, mettendo insieme processi di industrializzazione, efficienza energetica e partecipazione.
La struttura è composta da moduli prefabbricati che si combinano per formare un volume compatto. Si compone di 12 alloggi, 8 singoli e 4 doppi moduli.
Intorno a questo volume compatto, una facciata in policarbonato è progettata per rispondere agli allineamenti del lotto. Questa doppia pelle funge da separazione tra l'ambiente esterno e i contenitori, fornendo un effetto serra, con vantaggi climatici e spaziali.
Il nucleo di circolazione è posizionato strategicamente nella parete divisoria, risolvendo il conflitto con l'edificio adiacente e garantendo l'accesso a tutte le abitazioni attraverso passerelle, con una dimensione adeguata per consentire altri usi oltre alla circolazione.
Il piano terra è riservato agli usi comuni e ai servizi del quartiere. Uno spazio aperto e trasparente è progettato con accesso diretto alla piazza, che consente diversi usi. Gli appartamenti sono dotati di balconi, in parte nascosti dietro la "pelle" di policarbonato.
Queste strutture abitative si caratterizzano per essere modulari, trasportabili e smontabili, consentendo una rapida mobilitazione e possono incorporare alcune strutture pubbliche e spazi per uso locale.
Per gentile concessione della rivista AREA