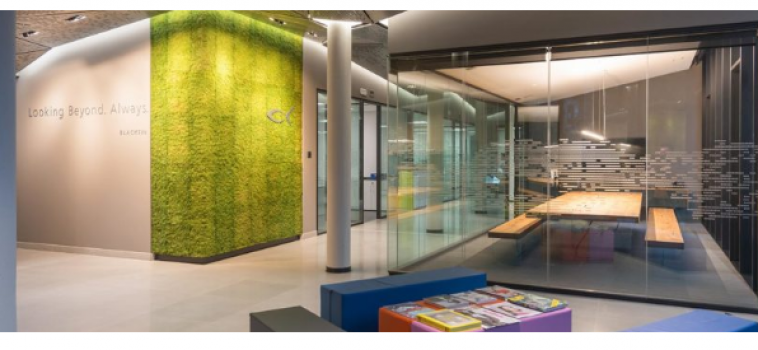 On the occasion of the 45th year of its activities, the famous Italian brand of sunglasses Blackfin has renovated the historical building of the company, located in Taibon Agordino, Belluno. The project for the new headquarters, designed by architect Nicola De Pellegrini, has taken account of the context in which the company operates, creating a complex that is in full harmony with the surrounding natural landscape.
For this ambitious project Blackfin has decided to collaborate with LAGO, the innovative furnishings brand, well knowm for its design. The intent was to create a real "participated office" where design improves the conditions of the work environment and of the offices open to the public, stimulates relationships among people who share the same spaces, and offers an environment that conveys with clarity the company philosophy.
Throughout the building the rooms are dominated by shades of gray, the color of the brand, combined with natural elements such as wood, stone, grass that are present with continuity to remember the link with the mountain environment. A vertical lawn on the walls gives a touch of color that recalls, in its decorative simplicity, the beauty and the inspiration of nature.
From the main floor you can admire the beautiful image of the mountains through the glass ceiling that puts you in direct contact with the external environment. The work areas have been studied in details in order to guarantee, in addition to the elegant aesthetic impact, high levels of comfort and technological innovation, values that are always present in the Blackfin production.
---
SEDE CENTRALE BLACKFIN
ITALIA
In occasione del 45° anno di attività, il famoso brand italiano di occhiali Blackfin ha ristrutturato lo storico palazzo dell'azienda che si trova a Taibon Agordino in provincia di Belluno. Il progetto per la nuova sede direzionale, realizzato dall'architetto Nicola De Pellegrini, ha tenuto conto del contesto in cui si trova l'azienda, realizzando un complesso in piena armonia con il paesaggio naturale circostante.
Per questo ambizioso progetto Blackfin ha deciso di collaborare con LAGO, l'innovativo brand di design italiano che produce arredi per tutte le aree della casa e non solo. L'intento progettuale è stato quello di realizzare un vero e proprio "ufficio partecipato" dove il design migliora le condizioni dell'ambiente di lavoro e degli uffici aperti al pubblico, stimola le relazioni tra le persone che sperimentano gli spazi e offre un ambiente che trasmette con chiarezza la filosofia dell'azienda.
In tutto l'edificio prevalgono le tonalità del grigio, colore del brand, abbinato a elementi naturali come legno, pietra, erba che ricorrono con continuità a ricordare il connubio con l'ambiente montano. Un prato verticale alle pareti dà un tocco di colore che richiama, nella sua semplicità decorativa, la bellezza ispiratrice della natura.
Dal piano principale si ammira la splendida immagine delle montagne attraverso la vetrata a tutt'altezza che mette in diretto contatto l'osservatore con l'ambiente esterno. Le aree di lavoro sono state studiate nei minimi dettagli ai fini di garantire, oltre all'elegante impatto estetico, alti livelli di comfort e innovazione tecnologica, valori sempre presenti nei prodotti Blackfin.