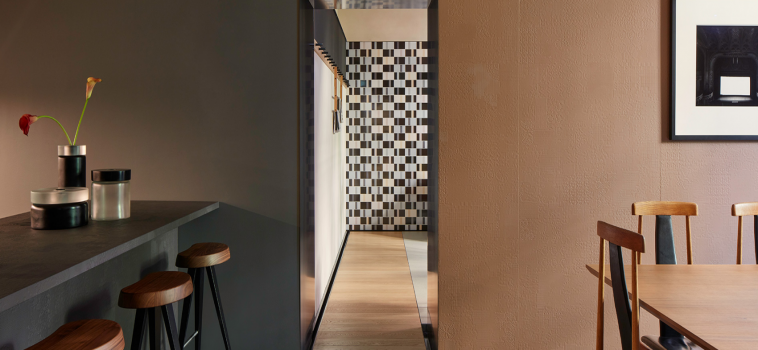 In the Brera district of Milan, in via Cernaia 1A, there is the new Casa Mutina, a living space in one of the main and privileged spot for international design and art. The first Mutina exhibition space in Milan was designed by Studio Urquiola which has created a place where the product becomes the protagonist inside a real home.
The architectural intervention involves the configuration of a boiserie that redraws the different functionalities of the typical domestic environments of an apartment: entrance, study, bathroom, kitchen and living room.
The tactile feature of the tiles covering the floor and the walls (up to 240 cm) dialogues with the contrast of the material ceiling, while the visual aspect refers to an intimate and familiar perception of the space that differs a lot from the conventional showroom design.
Courtesy of AREA editorial office
---
Nel quartiere Brera di Milano, in via Cernaia 1a, sorge la nuova Casa Mutina, uno spazio vivo in uno dei centri nevralgici e privilegiati per il design e l'arte internazionali. Il primo spazio espositivo Mutina a Milano è stato progettato dallo Studio Urquiola che ha realizzato un luogo in cui il prodotto diventa protagonista all'interno di una vera e propria abitazione.
L'intervento architettonico prevede la configurazione di una boiserie che ridisegna le diverse funzionalità degli ambienti domestici tipici di un appartamento: ingresso, studio, bagno, cucina e sala.
L'aspetto tattile delle piastrelle che rivestono il pavimento e le pareti (fino a 240 cm) dialoga con il contrasto del soffitto materico, mentre l'aspetto visivo rimanda a una percezione intima e familiare dello spazio che ben si discosta dal convenzionale showroom.
Per gentile concessione della rivista AREA