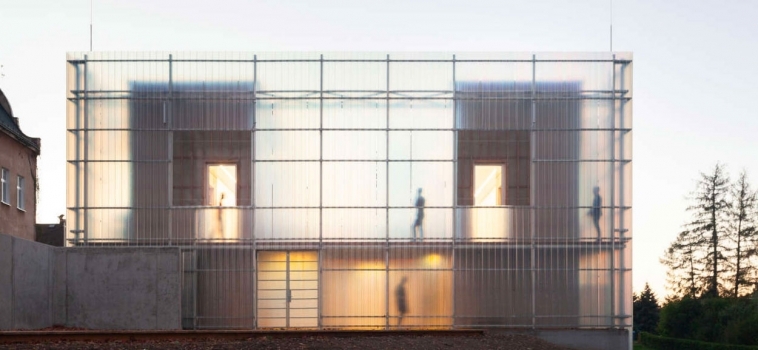 All precious objects are in a box that contains and protects. This is what happens in the project of the new elementary school Nová Ruda, designed by the Czech studio Petr Stolin Architekt for the city of Liberec with the aim of balancing the abundant outdoor space with the need for security and privacy, realized with the creating a second facade, in translucent polycarbonate that filters the contact with the outside world.
The two volumes of the inner space, place of the teaching activities, are composed of a wooden structure, covered by a layer of glass fiber which allows to see even from the outside the structure frame. The outer shell is supported by a regular grid of steel tubes sustaining the polycarbonate panels. This creates a series of paths that allow you to turn around the school and look out on the landscape surrounding, without, however, exit from the safety of the school required for the children.
The central building in a U shape encloses a long green backyard connected with stairs and walkways, which allow people inside to move in the private space of the court, without being seen from the outside.
On the ground floor there is a space with rest areas and a dining room, above which is located the games room that overlooks the internal courtyard and the terraces around the perimeter. Upstairs, the classrooms benefit from large skylights and overlooking the surrounding countryside.
Courtesy of AREA editorial
---
Ogni oggetto prezioso è sempre contenuto da una scatola che lo costudisce e lo protegge. É questo che accade nel progetto della nuova scuola elementare Nová Ruda dello studio ceco Petr Stolin Architekt che ha progettato la struttura educativa per la città di Liberec con l'obiettivo di bilanciare l'abbondante spazio esterno con l'esigenza di sicurezza e privacy creando una seconda facciata semitrasparente in policarbonato che filtra il rapporto con l'esterno.
I due volumi più interni dove si svolge l'attività didattica sono composti da una struttura in legno, ricoperta da uno strato di fibra di vetro che permette di vedere anche dall'esterno l'orditura della struttura. Il guscio esterno invece è sorretto da una maglia regolare in tubi di acciaio sui quali vengono ancorati i pannelli di policarbonato. Questo crea una serie di percorsi che permettono di girare intorno alla scuola e affacciarsi sul paesaggio circonstante senza però uscire dalla sicurezza della scuola necessaria per i bambini che la frequentano.
L'edificio centrale a U racchiude un lungo cortile verde collegato con scale e passerelle le quali consentono a chi si trova all'interno di muoversi nello spazio privato della corte, lontano della vista esterna.
Al piano terra c'è uno spazio con aree di riposo e una sala da pranzo, sopra al quale si trova la sala giochi che si affaccia sul cortile interno e sulle terrazze perimetrali. Al piano superiore le aule beneficiano di grandi lucernari e viste sulla campagna adiacente.
Per gentile concessione della redazione di AREA