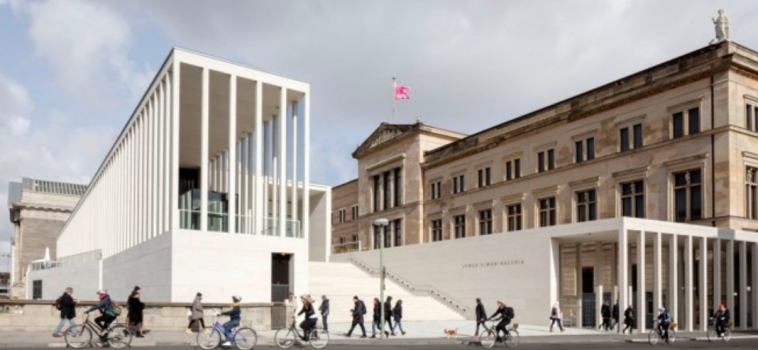 It's not exactly a museum, not even an auditorium, not even a giant entrance. But it's all this together and much more.
Designed by the American architect David Chipperfield studio on Museum Island in Berlin, the James-Simon-Galerie is an architectural project to envy at MoMA in New York. The building was designed to connect museums without being a museum.
With a coffee shop, a ticket office, an exhibition hall, a cloakroom and a conference room, the pavilion welcomes and invites visitors inside the five exhibition areas on the island of museums.
The works on the project, which started in 2009 and lasted 10 years, allows the entry to the Pergamon and the Neues Museum, while in the future an underground section – not yet completed – the so-called Archaeological walk, will connect the Bode Museum and the Altes Museum, too.
The new entrance, the only modern building on the Museum Island, is named after the largest donor of Berlin exhibition spaces: James Simon, who donated the head of Nefertiti to the Foundation of the Preussischer Kulturbesitz.
The external colonnade takes up the Doric one of the Altes Museum standing by its side, a way to resume the movement without making a real quote, as pointed out by the Chipperfield staff.
---
Non è esattamente un museo e nemmeno un auditorium e neppure un gigantesco ingresso. Ma è tutto questo insieme e molto di più.
Progettata dallo studio dell'architetto americano David Chipperfield sull'isola dei Musei a Berlino la James-Simon-Galerie è un progetto architettonico da fare invidia al MoMA di New York. L'edificio è stato pensato per mettere in comunicazione i musei senza essere un museo.
Munito di caffetteria biglietteria, sala per le esposizioni, guardaroba, sala conferenze il padiglione accoglie e invita i visitatori dentro i cinque spazi espositivi presenti sull'isola dei musei.
I lavori per il nuovo progetto, partiti nel 2009 e durati 10 anni, consentono per ora l'ingresso al Pergamon e al Neues Museum, mentre in futuro una tratta sotterranea non ancora completata, la cosiddetta passeggiata archeologica, metterà in comunicazione anche il Bode Museum e l'Altes Museum.
Il nuovo ingresso, l'unico edificio moderno sull'isola dei musei, prende il nome dal più grande donatore degli spazi espositivi berlinesi: James Simon che ha donato alla Fondazione del Preussischer Kulturbesitz la testa di Nefertiti.
Il colonnato esterno riprende quello dorico dell'Altes Museum che lo affianca, un modo per riprenderne il movimento senza farne una vera e propria citazione, come sottolineato dallo staff di Chipperfield.