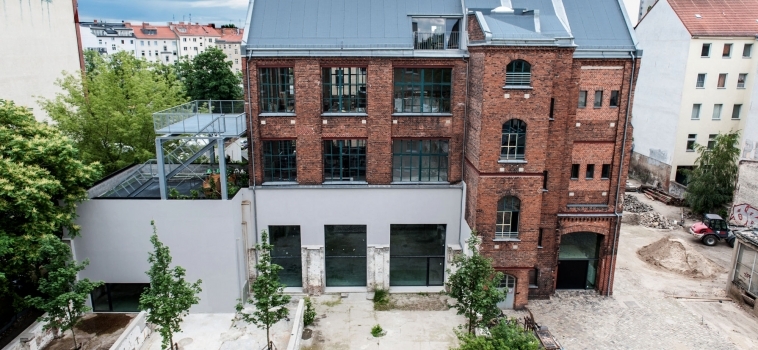 In the old industrial district of Wedding in Berlin, the Max Hasse Machinen Fabrik is becoming Lindower 22, civic cultural hub. The Heim Balp studio with Asastudio are in charge of the project which will concern the transformation of over 6000 square meters of existing buildings and in the new construction of 5000 square meters of mixed-use buildings, the project integrates work spaces, commercial activities, training and educational spaces. art, and 27 residential units.
Four buildings make up the structure: the HAUS A, characterised by a reflective brushed metal surface; HAUS C, consisting of large windows that illuminate large work spaces; HAUS D that includes a mixture of restoration and new constructions that accompanies the transition and finally HAUS B which is a mixed-use building (in completion) in which there will be a theater, a gastronomic area, galleries, ateliers, residences and shared spaces for artists.
Lindower 22 is a work of change, innovation and creation that represents the free spirit of Berlin which remains a carefree and nonconformist city.
---
Nel vecchio quartiere industriale di Wedding a Berlino, La Max Hasse Machinen Fabrik sta diventando Lindower 22, un polo civico culturale. Lo studio Heim Balp con Asastudio sono a capo del progetto che riguarderà la trasformazione di oltre 6000 mq di edifici esistenti e nella nuova realizzazione di 5000 mq di edifici uso misto, il progetto integra spazi di lavoro, attività commerciali, spazi per formativi e per l'arte, e 27 unità residenziali.
Quattro edifici compongono la struttura: la HAUS A, caratterizzata da una superficie in metallo spazzolato riflettente; la HAUS C, caratterizzata da ampie finestre che illuminano grandi spazi di lavoro; la HAUS D che comprende un misto di opere di restauro e di nuove realizzazioni che accompagna la transizione e infine la HAUS B, un edificio a uso misto (in completamento) in cui saranno presenti un teatro, un'area gastronomica, gallerie, atelier, residenze e spazi condivisi per artisti.
Lindower 22 è un'opera di cambiamento, innovazione e creatività che rappresenta lo spirito libero di Berlino che rimane sempre una città spensierata e anticonformista.