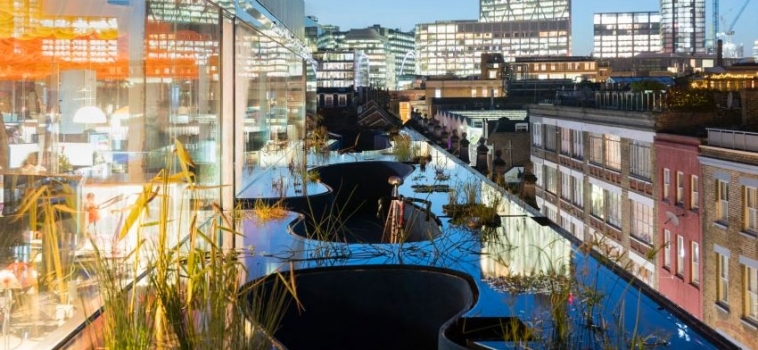 Lucía Cano and José Selgas, founder of the Spanish studio Selgascano, based in Madrid, proponents of an architecture based on color, transparency, creativity and special attention towards the user, in 2017 realized the expansion of the panoramic terrace of Second Home, in the Spitalfield Palace in East London.
The amazing location, with a breathtaking view, covers an area of about 1400 square meters, with its offices surrounded by water basins, aquatic plants and tropical trees.
The headquarters houses the offices of Second Home, for which SelgasCano had already realized some projects such as the Library of East London (2016), the Kibera Hamlets School at the University of Nairobi (2016), Second Home of Lisbon (2017) and Second Home Holland Park, opening this year.
The project consists of five private offices for one hundred or one hundred and fifty employees, each one with a panoramic view and an outdoor decorative basin. All the offices are situated in a common area, supplied with bars, spaces of cultural sharing, a meeting room, and a large terrace overlooking the London skyline.
The ceiling of the offices is covered with over 10,000 hats made of colorful felt, which, in addition to characterising the project on an aesthetical way, guarantee an excellent sound insulation, essential for the good quality of the work environment.
---
SECOND HOME NELLO SPITALFIELD PALACE – EAST LONDON
Lucía Cano e José Selgas, fondatori dello studio spagnolo Selgascano, con sede a Madrid, fautori di un'architettura fondata su colore, trasparenza, creatività e particolare attenzione nei confronti dell'utente, progettano nel 2017 l'ampliamento della terrazza panoramica di Second Home, nel Palazzo di Spitalfield nell'East London.
La strepitosa location, dalla vista mozzafiato, ricopre una superfice di circa 1400 mq con i suoi uffici circondati da bacini d'acqua, piante acquatiche ed alberi tropicali.
La sede ospita gli uffici di Second Home, per cui SelgasCano aveva già realizzato alcuni progetti come la Libreria dell'East London (2016), la Kibera Hamlets School di Nairobi (2016), Second Home di Lisbona (2017) e Second Home Holland Park, la cui apertura avverrà quest'anno.
Il progetto consiste di cinque studi privati per un numero di cento o centocinquanta dipendenti, ciascuno dotato di visuale panoramica e vasca decorativa all'esterno, tutti inseriti in un'area comune, fornita di bar e spazi di condivisione culturale, sala riunioni, e la grande terrazza che affaccia sullo skyline londinese.
Il soffitto degli uffici è rivestito con oltre 10.000 cappelli di feltro variopinti, che, oltre a caratterizzare il progetto esteticamente, garantiscono un ottimo isolamento acustico, indispensabile per la qualità dell'ambiente di lavoro.