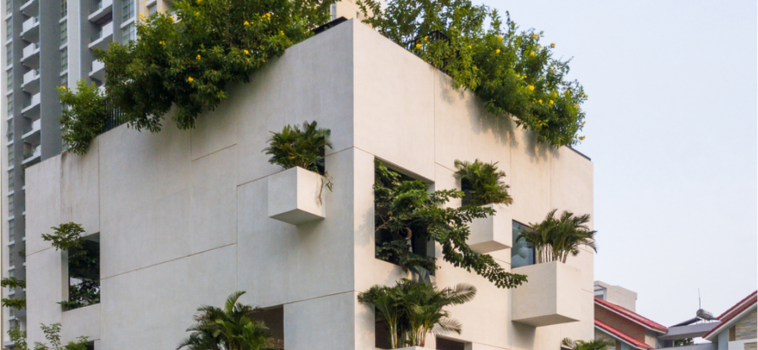 Saigon is a metropolitan city of Vietnam with the highest density of construction, vehicles and population, resulting in the great number of urban infrastructures and a heavy traffic congestion. This generates a lack of green spaces, where people can seek tranquility and sit in harmony with nature to release stress.
Inside such a context, the Sky House is located in the midst of numerous skyscrapers built one next to the other. This presented a great difficulty in creating an "open" and "airy" project.
According to the desire of the owner of this house who loves to enjoy inner peace and tranquility, the design team MIA Design Studio developed a specific vision of the architectural project, promoting a deep vertical and horizontal connection between man and nature.
The solution was to create links between spaces so that natural elements can be inserted in every corner of the living space. Without interfering with the terrain or the intention to use areas for useless rooms, the house was divided in half. The first half is dedicated to sun, wind, water and trees or simply to empty spaces, the other half is for family activities with minimal utilities.
Courtesy of AREA editorial office
---
Saigon è la città metropolitana del Vietnam con la più alta densità di edifici, veicoli e popolazione, con la conseguente costruzione di numerose infrastrutture urbane e di un alto tasso di congestione del traffico. Questo genera la mancanza di spazi verdi, dove le persone possano trovare tranquillità e starsene in armonia con la natura per liberare lo stress.
In questo contesto, la Sky House si trova in mezzo a numerosi grattacieli costruiti uno vicino all'altro, situazione che ha generato non poche difficoltà nel creare un progetto "aperto" e "arioso".
Per venire incontro al desiderio del proprietario della casa che ama godere di pace interiore e tranquillità, il team di progettazione MIA Design Studio ha sviluppato una precisa visione del progetto architettonico, che consiste nel promuovere una profonda connessione verticale e orizzontale tra l'uomo e la natura.
La soluzione è stata quella di creare collegamenti tra gli spazi in modo che gli elementi naturali potessero essere inseriti in ogni angolo dello spazio abitativo. La casa è stata perciò divisa a metà. La prima metà è dedicata al sole, al vento, all'acqua e agli alberi o semplicemente agli spazi vuoti, l'altra metà è riservata alle attività familiari con utilità minime.
Per gentile concessione della rivista AREA