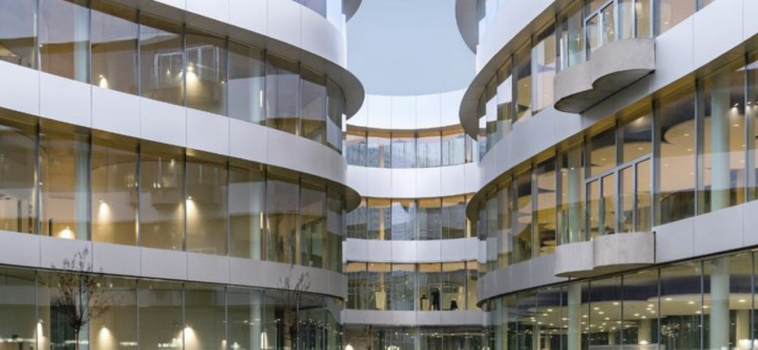 The new Bocconi campus designed by Kazuyo Sejima and Ryue Nishizawa of the Japanese SANAA studio opened recently. The project involves a lot of almost 35,000 square meters in the area of the former Centrale del Latte in Milan, which now houses the new SDA School of Management – four buildings for restaurant, cafeteria and two conference rooms, a student residence with 300 beds and a sports center with two swimming pools, a fitness area, a basketball and volleyball court and an indoor running track.
The SDA Bocconi School of Management post-graduate training school hosts 12,000 students. The complex consists of 41 classrooms capable of accommodating over 2,400 seats, two conference rooms for a total of 450 seats, 1,030 study seats and 124 offices with 408 seats. The SANAA project has the character of a landscape intervention: transparent buildings with a micro-perforated cladding used by Japanese architects and 17,000 square meters of public green designed as a real urban park open to the city.
Sejima and Nishizawa used transparent facades with curved lines that create continuity between interior and exterior spaces, between buildings and courts referring to the traditional Milanese blocks. Canopies with organic shapes guide pedestrians in the public park protecting them from rain and intense sun. An important theme on which architects have focused on is sustainability, as confirmed by the Rector of Bocconi, Gianmario Verona: "In the realisation of the new complex, attention to environmental sustainability was maximum, as demonstrated by the numerous innovative solutions used, which guarantee self-sufficient energy on an annual basis, the absence of harmful emissions and heat pumps and water-powered refrigeration units without physical consumption of the same, which is taken and then returned to the Ticinello waterway".
Courtesy of AREA editorial office

---
Recentemente è stato inaugurato il nuovo campus Bocconi progettato da Kazuyo Sejima e Ryue Nishizawa dello studio giapponese SANAA. L'intervento interessa un lotto di quasi 35.000 metri quadrati nell'area dell'ex Centrale del Latte di Milano, che oggi ospita la nuova sede SDA School of Management – quattro edifici destinati a ristorante, caffetteria e due sale conferenza, una residenza studentesca con 300 posti letto e un centro sportivo dotato due piscine, area fitness, campo di basket e di pallavolo e running track al coperto.
Sono 12.000 gli studenti che ospita la scuola di formazione post-laurea SDA Bocconi School of Management: 41 aule capaci di ospitare oltre 2.400 posti, due sale conferenza per complessivi 450 posti, 1.030 posti studio e 124 uffici con 408 postazioni.
Il progetto dei SANAA ha il carattere di un intervento paesaggistico: edifici trasparenti grazie al rivestimento micro-forato utilizzato dagli architetti giapponesi e 17.000 mq di verde pubblico pensato come vero e proprio parco urbano aperto alla città. Sejima e Nishizawa hanno utilizzato facciate trasparenti dalle linee curve che creano continuità tra spazi interni ed esterni, tra gli edifici e le corti e rimandano ai tradizionali isolati milanesi. Pensiline dalle forme organiche guidano i pedoni nel parco pubblico proteggendoli dalla pioggia e dal sole intenso.
Tema importante su cui hanno puntato gli architetti quello della sostenibilità come conferma il Rettore della Bocconi Gianmario Verona. "Nella realizzazione del nuovo complesso, l'attenzione alla sostenibilità ambientale è stata massima, come dimostrano le numerose soluzioni innovative impiegate, che garantiscono l'autosufficienza energetica su base annua, l'assenza di emissioni nocive e pompe di calore e gruppi frigoriferi alimentati ad acqua senza consumo fisico della stessa, che viene prelevata e poi restituita al corso d'acqua del Ticinello".
Per gentile concessione della rivista AREA