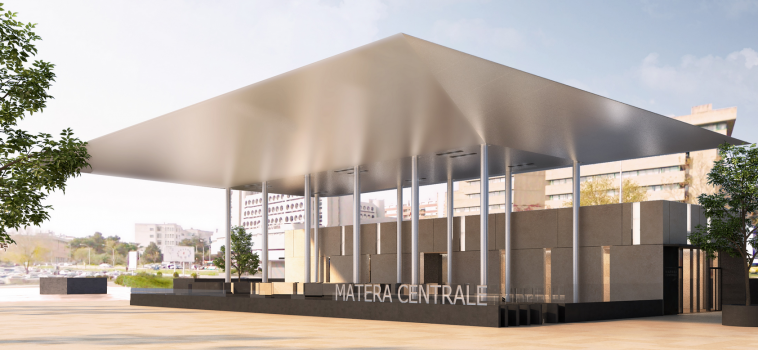 Located in a place that forms a link between the old and the contemporary city, the new Matera Central Station, designed by Stefano Boeri Architetti, overlooks Piazza della Visitazione and defines a new important access point to the city of Matera, in the year in which the city is the European Capital of Culture.
A large opening in the square's pavement, rectangular in shape and with an area of about 440 square meters, puts the two parts of the project in direct relation: the public one at ground level and the underground part more linked to the actual railway service, bringing natural light and air to the tunnel below which is thus completely redeveloped and becomes an identifiable and livable space.
This is joined by a new large roof (45 x 35 meters wide, and 12 meters high from the level of the square and 18 meters from the level of the quay) which fits decisively into the Matera skyline, immediately connoting itself as a landmark that unmistakably defines the station as the new city gate and transforms the outdoor space into a covered square that can be used by both travelers and citizens and tourists who will have a meeting, waiting, transit, strolling space, giving new life to an important piece of city overlooked by several public buildings of architectural value and which until recently was mainly used as a parking lot.
(Following…)
Courtesy of AREA magazine
---
LA NUOVA STAZIONE CENTRALE DI MATERA (PARTE 1)
Situata in un luogo che costituisce una cerniera tra la città vecchia e quella contemporanea, la nuova Stazione Centrale di Matera, progettata dallo studio Stefano Boeri Architetti, si affaccia su piazza della Visitazione e definisce un nuovo importante punto di accesso alla città di Matera proprio nell'anno in cui la città è Capitale Europea della Cultura.
Una grande apertura ricavata nella pavimentazione della piazza, di forma rettangolare e con una superficie di circa 440 mq, mette in relazione diretta le due parti del progetto: quella pubblica a livello del suolo e la parte interrata più legata al servizio ferroviario vero e proprio, portando finalmente luce naturale e aria al tunnel sottostante che viene così completamente riqualificato e diventa uno spazio identificabile e vivibile.
A questo si unisce una nuova grande copertura (di 45 x 35 metri di ampiezza, e 12 metri di altezza dal livello della piazza e ben 18 metri dal livello della  banchina) che si inserisce in maniera decisa nello skyline di Matera connotandosi da subito come un landmark che definisce in maniera inconfondibile la stazione come nuova porta della città e trasforma lo spazio esterno in una piazza coperta fruibile sia dai viaggiatori che dai cittadini e dai turisti che disporranno di uno spazio di incontro, attesa, transito, passeggio, dando nuova vita a un importante brano di città su cui si affacciano diversi edifici pubblici di valore architettonico e che fino a poco tempo fa era prevalentemente adibita a parcheggio.
(segue…)
Per gentile concessione della rivista AREA