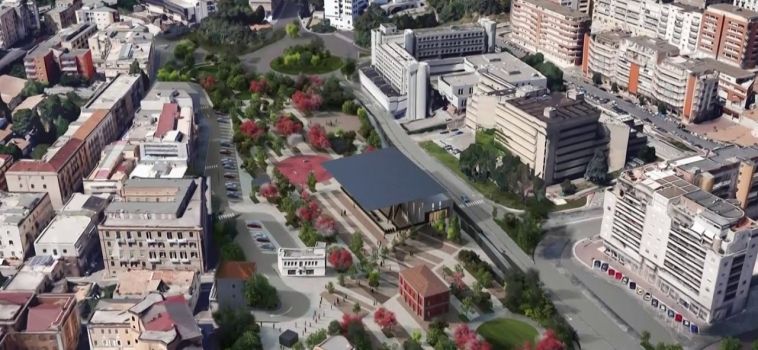 (following…)
The project for the new Matera FAL station was carried out using mainly two materials capable of embodying the two souls of the city: the Apricena stone which recalls the local stone of the ancient city of the Sassi and the steel that speaks of the dynamism of the modern city: the waiting platform and the actual building of the station are entirely covered in stone, the emergency platform, the two walkways suspended in space and the structure of the large canopy are made of steel.
The large roof 12 meters high on the level of the square is supported by twelve steel columns that rise from the "iron plane", cross the height of the tunnel up to the ground level, providing a large covered area for travelers and citizens which will allow you to experience the square even with changing weather conditions and at all hours of the day and night.
The photovoltaic panels – which cover the roof – guarantee the maximum energy self-sufficiency of the station itself and in the future the possibility of feeding the entire square and the park equipped in accordance with the most advanced principles of environmental sustainability that permeate Stefano Boeri Architetti's design research.
An orientation that FAL has fully embraced and supported. The plant, built on an area of 1,250, is composed of 696 panels that produce energy for 271,440 kWh annually.
The new station was designed with a view to the near future of enhancing the rail transport flows on Matera, which after 2019 is set to become a permanently unique city of art and history.
Courtesy of AREA editorial office
---
LA NUOVA STAZIONE CENTRALE DI MATERA (PARTE 2)
(segue…)
Il progetto della nuova stazione FAL di Matera è stato realizzato utilizzando prevalentemente due materiali capaci di incarnare le due anime della città: la pietra di Apricena che richiama la pietra locale della città antica dei Sassi e l'acciaio che parla della dinamicità della città moderna: la banchina d'attesa e l'edificio vero e proprio della stazione sono interamente rivestiti in pietra, la banchina di emergenza, le due passerelle sospese nel vuoto e la struttura della grande pensilina sono in acciaio.
La grande copertura a 12 metri di altezza sul livello della piazza è sorretta da dodici colonne in acciaio che sorgono dal "piano del ferro", attraversano l'altezza del tunnel fino ad arrivare al livello terra, fornendo una vasta superficie coperta per viaggiatori e cittadini che permetterà di vivere la piazza anche al variare delle condizioni climatiche e a tutte le ore del giorno e della notte.
I pannelli fotovoltaici – che rivestono la copertura – garantiscono la massima autosufficienza energetica della stazione stessa e in futuro la possibilità di alimentare l'intera piazza e il parco attrezzato in accordo con i più avanzati principi di sostenibilità ambientale che permeano la ricerca progettuale di Stefano Boeri Architetti.
Un orientamento che FAL ha pienamente abbracciato e sostenuto. L'impianto, realizzato su una superficie di 1.250, è composto da 696 pannelli che producono annualmente energia per 271.440 KWh.
La nuova stazione è stata progettata pensando a un futuro prossimo di potenziamento dei flussi di trasporto ferroviario su Matera, che dopo il 2019 si avvia a diventare stabilmente una città d'arte e storia unica al mondo.
Per gentile concessione della rivista AREA