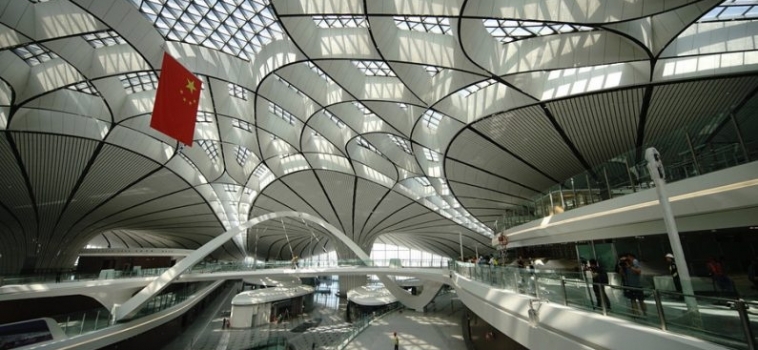 Located about 50 km south of central Beijing, the new Beijing Daxing International Airport, designed by Zaha Hadid Architects, has 8 international runways and a military one, but above all it is equipped with cutting-edge robotic intelligence.
The architecture is based on the traditional Chinese one by providing interconnected spaces organized around a central courtyard. In the configuration of the terminal it guides all passengers seamlessly from the departure, arrival or transfer areas towards the heart of the structure, arranged on multiple levels.
The roof is vaulted and sinuous and fluid shapes start from it reaching the ground and supporting the structure thus creating the possibility of natural light to enter. It is accompanied by a series of skylights that creates a sort of intuitive system for achieving the departure gates.
The structural spans, up to 100 meters high, create large public spaces that allow a possible future configuration because the Beijing Daxing International Airport is an efficient and adaptable compact airport. There are five branches housing the boarding areas while one of them connects the terminal with the outside.
Looking at the Beijing Daxing International Airport from above, it almost seems that the metal used to build the skeleton suddenly becomes liquid and begins to flow from the central body towards the more peripheral parts, in an eternal and elegant movement.
---
Situato circa 50 km a sud dal centro di Pechino il nuovo Beijing Daxing International Airport, firmato Zaha Hadid Architects, conta 8 piste internazionali ed una militare ma soprattutto è dotato di un'intelligenza robotica all'avanguardia.
L'architettura si basa su quella tradizionale cinese prevedendo spazi interconnessi organizzati intorno ad un cortile centrale, a configurazione del terminal guida tutti i passeggeri senza soluzione di continuità, dalle relative zone di partenza, arrivo o trasferimento, verso il cuore della struttura, disposta su più livelli.
Il tetto è a volta e da esso partono forme sinuose e fluide che raggiungono il suolo e sostengono la struttura creando così la possibilità alla luce naturale di entrare. Il tutto è accompagnato da una serie di lucernari che creano una sorta di sistema intuitivo per il raggiungimento dei gate di partenza.
Le campate strutturali alte fino a 100 metri creano grandi spazi pubblici e consentono una possibile configurazione futura in quanto il Beijing Daxing International Airport è un aeroporto compatto efficiente ed adattabile. Cinque sono i rami che ospitano le aree d'imbarco mentre uno collega il terminal con l'esterno.
Osservando dall'alto il Beijing Daxing International Airport sembra quasi che il metallo utilizzato per costruire lo scheletro diventi improvvisamente liquido e inizi a fluire dal corpo centrale verso le parti più periferiche, in un eterno ed elegante movimento.