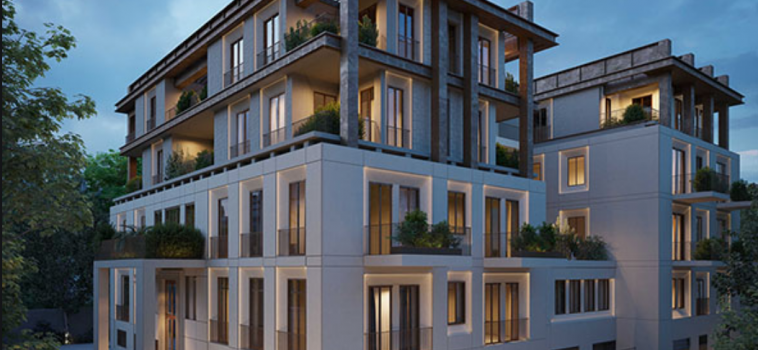 In the district of Porta Nuova, in Milan, the architect Roberto Bagnato has transformed the Timavo House, respecting the traditional and elegant building of the Thirties, in a residence, highly technological, modern and functional, combining the comfort of wood paneling and home automation, marble and geothermal energy, innovation and beauty, private gardens, terraces and frescoes. Where modern corten steel inserts integrate with antique marble staircases and large glass surfaces of the old time.
The choice of materials and colors of the external facades was based on visual harmony. A splendid restored fresco contrasts with the modernity of the fitness area for residents and the lighting project, curated by Studio Bagnato, highlights the area dedicated to the concierge that opens onto an important hall enriched by woodwork and spaces dedicated to co-working.
Each residence, for a total of 26 apartments built according to high standards of efficiency, environmental sustainability and technologies, is equipped with all the latest technological comforts and large outdoor spaces. The whole is certified in the highest energy class a and equipped with heating and cooling floor, controlled mechanical ventilation systems, home automation of the latest generation, to which is added a photovoltaic system for the common parts of the residence, to optimize the consumption of energy and economic resources.
There is a great attention to the environment and efficiency and consumption, but also attention to details and design of spaces thanks to the choice of quality finishes and high quality materials that make the property even more valuable and more welcoming and comfortable the environments.
Courtesy of AREA editorial office
---
Nel quartiere di Porta Nuova, a Milano, l'architetto Roberto Bagnato ha trasformato la Timavo House, rispettando la tradizionale ed elegante struttura degli anni Trenta, in una residenza altamente tecnologica, moderna e funzionale, combinando il comfort a boiserie e domotica, marmo e geotermia, innovazione e bellezza, giardini privati, terrazzi e affreschi. Dove gli inserti moderni in acciaio corten si integrano con le scalinate in marmo antico e le ampie superfici vetrate dell'epoca.
La scelta dei materiali e dei colori delle facciate esterne è stata improntata sull'armonia visiva. Uno splendido affresco restaurato contrasta con la modernità della zona fitness al servizio dei residenti e il progetto illuminotecnico, curato dallo Studio Bagnato, fa risaltare la zona dedicata al concierge che si apre su un'importante hall arricchita da boiserie e da spazi dedicati al co-working.
Ogni residenza, in totale 26 appartamenti costruiti secondo elevati standard di efficienza, sostenibilità ambientale e tecnologie, è dotata di tutti i comfort tecnologici di ultima generazione e di ampi spazi all'aperto. Il tutto è certificata in elevatissima classe energetica e dotati di riscaldamento e raffrescamento a pavimento, ventilazione meccanica controllata, impianti di domotica di ultima generazione a cui si aggiunge un impianto fotovoltaico dedicato alle parti comuni della residenza per ottimizzare il consumo delle risorse energetiche ed economiche.
Grande attenzione all'ambiente e all'efficienza e ai consumi, ma anche cura dei dettagli e del design degli spazi grazie alla scelta di finiture di pregio e materiali di alta qualità che rendono ancora più prezioso l'immobile e più accoglienti e confortevoli gli ambienti. 
Per gentile concessione della rivista AREA